In short, no, quality composite decking does not get hotter than wood. While it is true that earlier versions of composite had a reputation for heating up, modern composite stays cooler than wood. Thanks to advances in manufacturing and technology, today's composite decks are better formulated to reduce the build-up of heat.
The darker your deck is the more sunlight and heat it will absorb. If it is going to experience a lot of direct sunlight, it is better to get a light-colored deck. As good as composite decking is, no decking material is impervious to warming up. Any deck will heat up from the sun and eventually feel hotter to the touch. Ideally, you want a deck that minimizes this.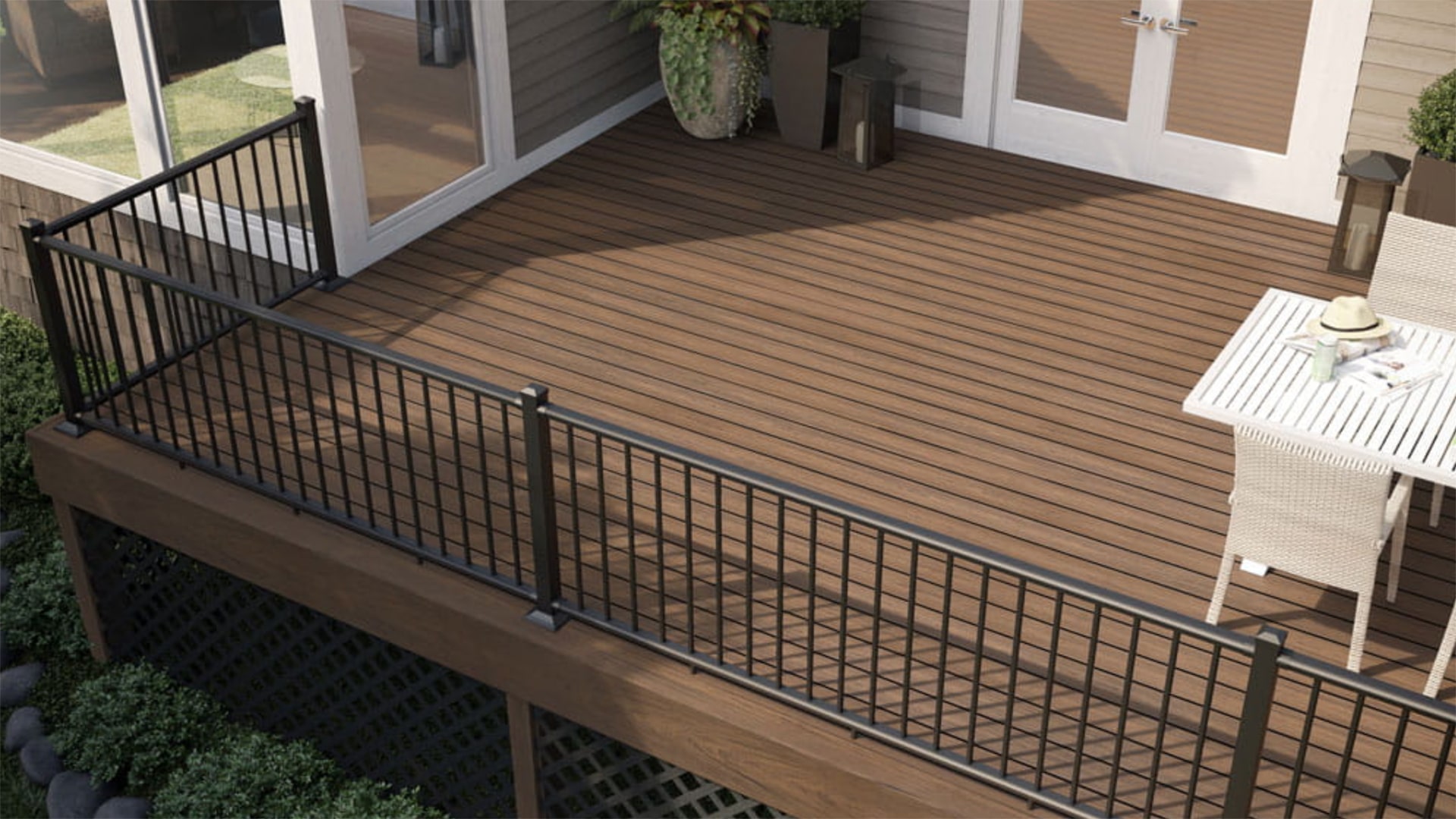 Benefits of Composite Decks
Composite decks are a great option if you have a pool or a hot tub for multiple reasons. First, that area tends to get the most sunlight and a traditional wooden deck can be uncomfortable and potentially burn your feet when getting in or out. Second, composite decks do not rot over time, which is a problem for pool-side .
A common misconception is that composite decking never cracks. The material is crack resistant meaning that it will not break due to fluctuating temperatures and various weather conditions. However, impact from heavy objects, improper installation, and/or a poor foundation can cause fractures in your composite deck.
Being crack-resistant makes composite decking a great option if you have young children and/or pets because the boards are significantly less likely to splinter and have jagged edges which can injure pets, children, and even unaware adults. Another benefit of composite decks is they mimic the aesthetic of their wooden counterparts.
The Problem with Wood
It is no surprise that
are popular. People love them for a variety of reasons. A well-built wooden deck adds a dimension of warmth and comfort to any home.
They tend to be relatively inexpensive, and it provides an additional space to entertain family and friends or relax by yourself. However, wood decks have their fair share of problems.
Natural wood decks are more susceptible to water damage as well as other environmental hazards such as snow, freezing rain, and termites. This is partially why wood needs more routine maintenance than its composite alternative. It is also more susceptible to UV rays and fading which is why it needs to be stained every other year.
Request a Quote
When you are looking to invest in a quality deck, you want to make sure it will be installed efficiently and properly to ensure it has a long lifetime. You can trust your Grand Rapids deck builders to help you with your next project.
To request a free estimate, call Avio Deck Builders at (616) 608-9713. You may also fill out our online contact form to get started. We offer in-person estimates.